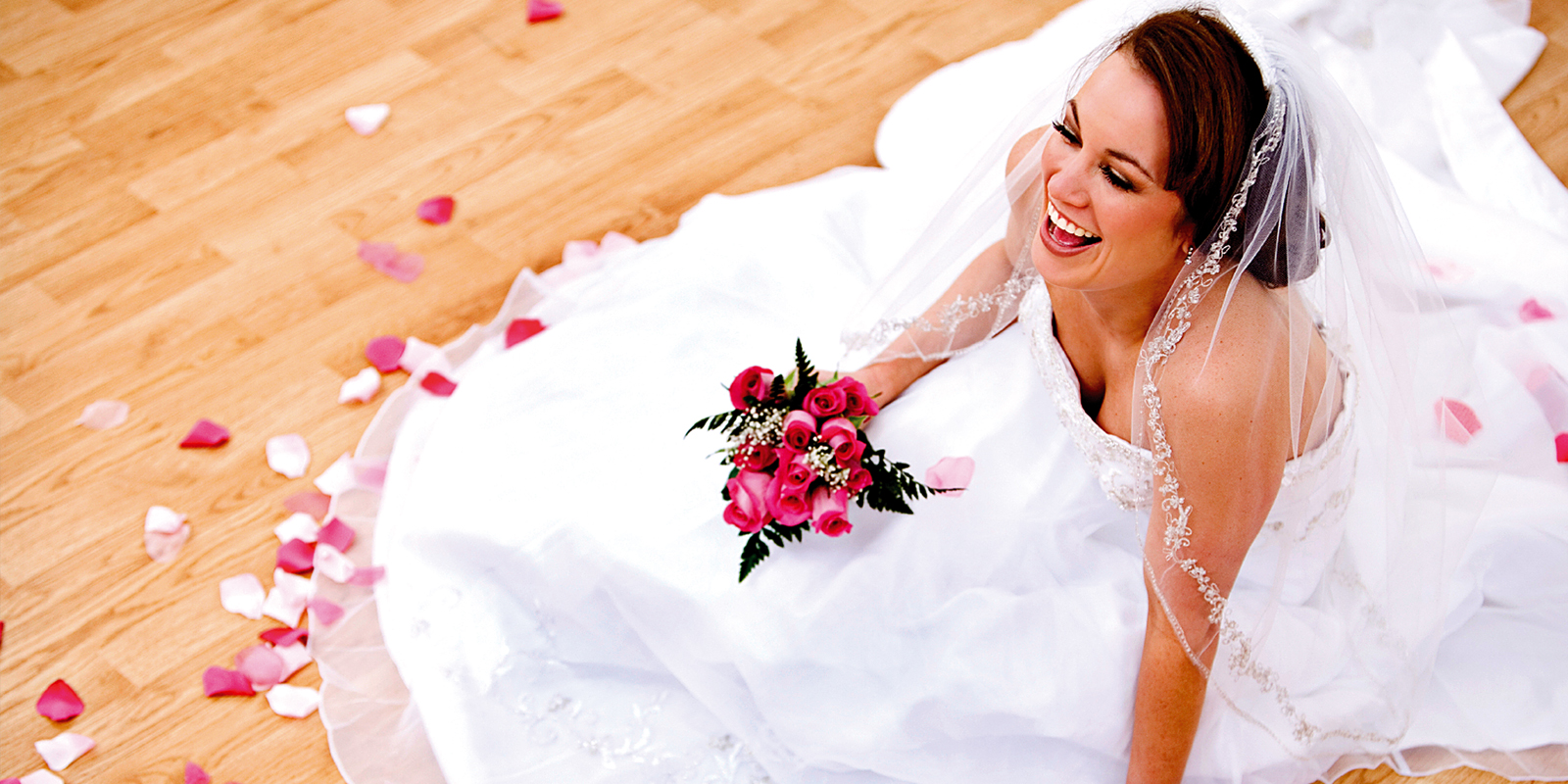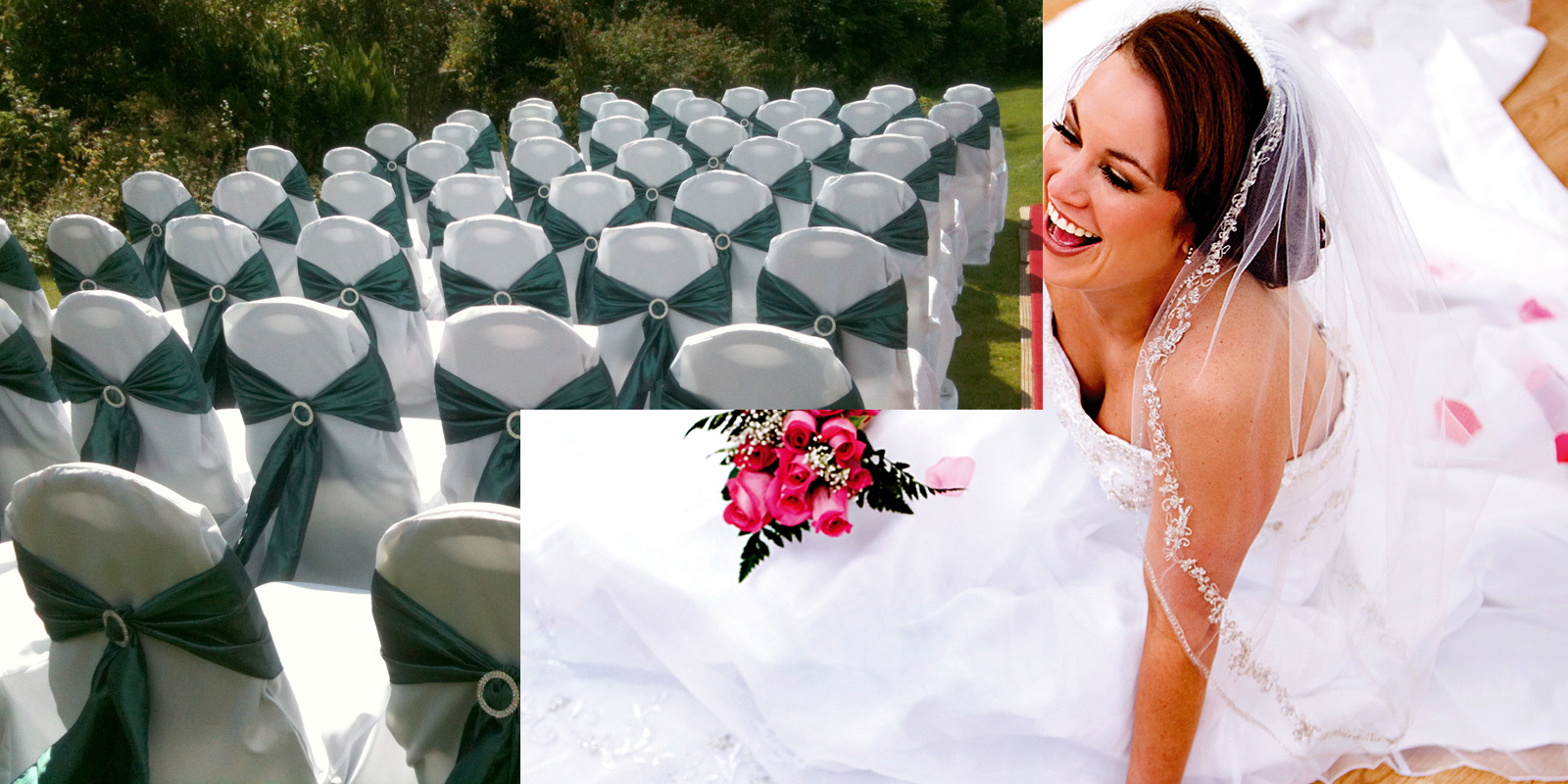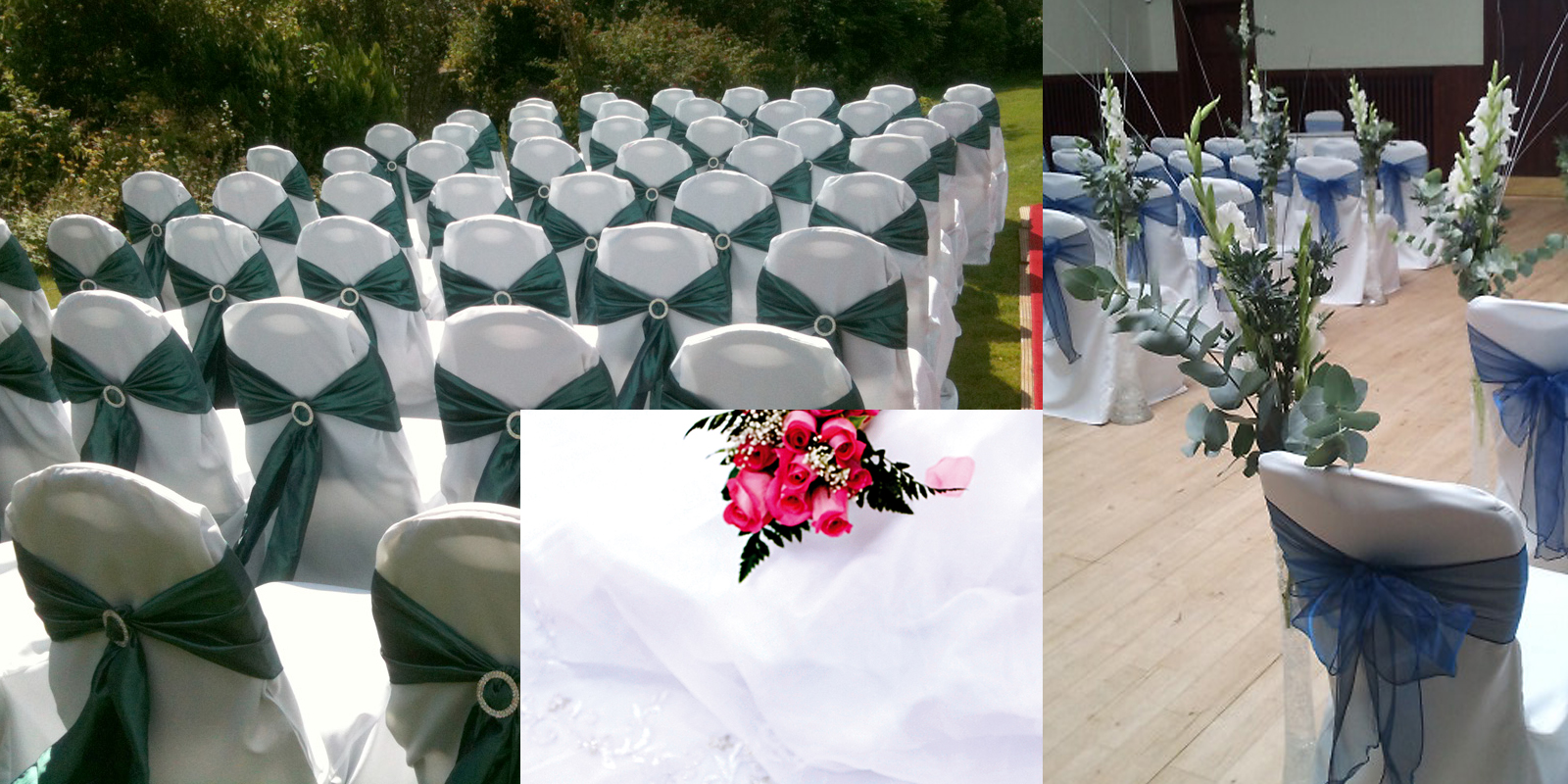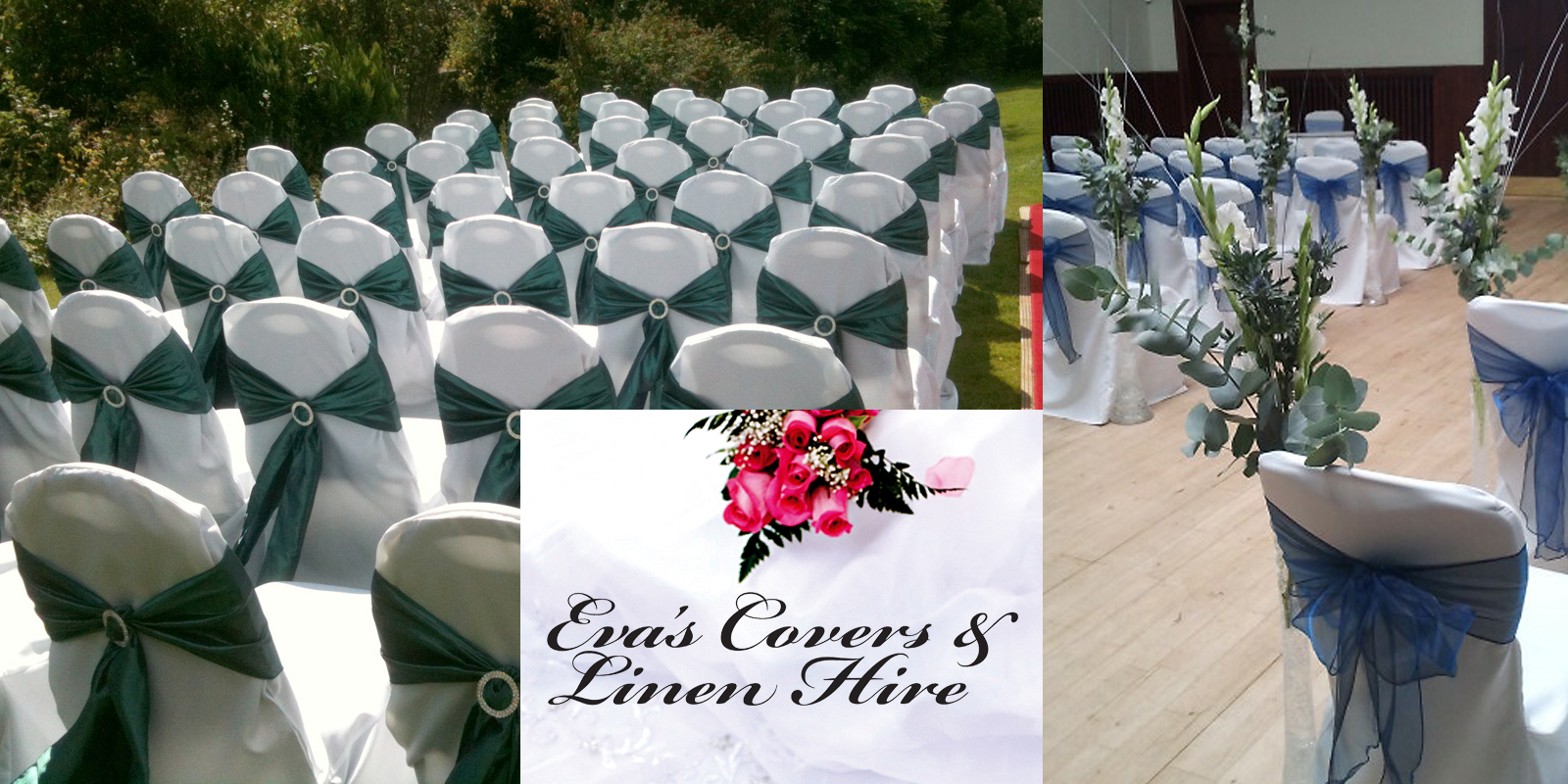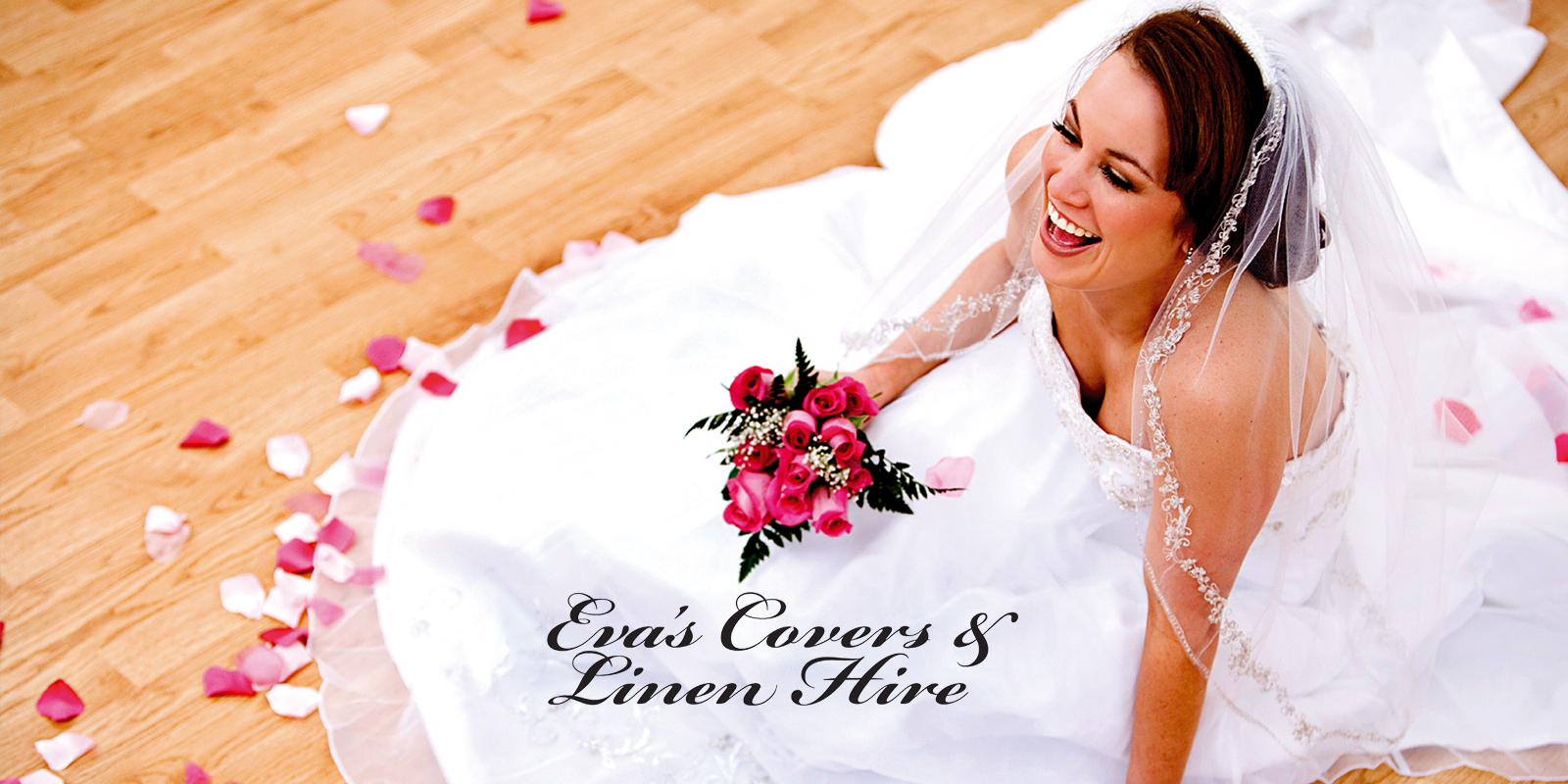 Nicola did our chair covers and centrepieces for our wedding in August and we loved them. She's a lovely lady and it was great knowing everything was being done at the hotel on the day while we were getting ready. Highly recommended, thanks again for everything Nicola. Michelle Bain.
---
Well what can I say, absolutely amazing person and company – will do whatever you want and if Nicola thinks it's not going to look right she will advise you on what's best, or what she thinks may look good.
She did an amazing job at our wedding. I cannot fault her one bit. I can't thank you enough for your help and organisation of everything – highly recommend you and your Company. Massive thank you. Keighly Perry.
---
We got married back in May at Achnagairn House and Eva's Covers decorated the hall and it was stunning. The attention to detail was superb, it was like something out of a magazine, perfect. Nicola was absolutely brilliant and always replied to messages straight away, which is great for a busy bride! Thank you so much Eva's Covers for all your hard work on our big day, highly recommended. Steph Ing-Simmons.
---
I can't recommend Nicola enough! Eva's Covers decorated the Ballroom at Achnagairn with fairy lights around the room and sourced the exact type of lace runners, napkins and table cloths we had in mind. She helped our ideas come to fruition. Nicola is a lovely lady who always responds very quickly to emails, and goes the extra mile to turn a room into a beautiful creation. Kayleigh MacLennan Kieran.
---
Amazing service and beautiful sashes and chair covers. We got exactly what we asked for and the room looked stunning for our wedding. Thank you so much. Megan Spears.
---
Got married at Achnagairn house October past and Nicola did an absolute beautiful job of decorating my room. It looked stunning. Nicola was there the night before my wedding working late setting up chair covers, fairy lights, lanterns and the fireplace. Then back on the day of wedding to set up table covers, napkins and candelabras. I cannot thank Nicola enough. Full of great ideas. Highly recommend Eva's Covers. Kelsey Craib.
---
Nicola decorated the room for my wedding reception at the Craigmonie Hotel, it was perfect. White chair covers with grey and pink sashes to match my colour theme. Nicola was fantastic from start to finish. Would recommend to anyone who is looking for that special touch for any occasion xx Emma Godwin.
---
Nicola was just amazing, made everything so easy for us and went beyond the call of duty offering on going advice and being really budget conscious for us. She made the venue look beautiful, would thoroughly recommend Eva's Covers. Thank you! Tana & Gregor.
---
Great customer service. Nicola patiently helped us decide what we wanted. She researched new options and made the room look beautiful on the day. Several of our guests commented on the chairs. Izi and Luke. Loch Ness House.
---
Throughout the planning of my daughter's wedding Nicola has proven to be a true professional; not only in her final presentation skills but also through her genuine enthusiasm to make a success of the big occasions we all hold dear in our lives. Her warmth of character and her ability to go the extra mile if required was ably demonstrated at our wedding when a guest from Canada was able to attend at the very last minute. The chair without a cover looked sadly out of place among the otherwise perfect settings. However Nicola came to the rescue – the guest was none the wiser but those of us behind the scenes were abundantly grateful. Thank you very much Nicola from the Rosie Achnagairn wedding.
---
Nicola's service was excellent from start to finish. I had a specific colour scheme in mind and Nicola went out of her way to ensure that my expectations became a reality. Her attention to details was excellent and the room was exactly as I imagined it. Thank you Nicola. Angela and Ronnie.
---
Upon discovering the day before our wedding that the seat covers we'd ordered were wrong there was a slight panic. Which was then escalated to mild hysteria when we discovered the suppliers didn't even stock the right ones. 
After a quick consultation with the team at Achnagairn a call was put into Nicola. As luck would have it she didn't have a function that day and was over at the house within two hours to set up all 115 of our seats. By 5pm it was all as it should have been. Nicola was an absolute superstar and a life (sanity) saver. She could not have been more accommodating, professional or lovely. We just wish we'd booked her in the first place.
---
Nicola at Eva's Covers couldn't have been more helpful right from when I first spoke to her to the day of my wedding. The first time I talked to her, Nicola went so far as to recommend an excellent florist and even went out of her way to track down contact details for a band she recommended.
---
Eva's covers provide an extensive choice of colours. The linen and colours we selected really finished the look of the venue. Nicola certainly will go the extra mile to make sure everything looks perfect and also gets it done with minimal stress on the bride – I certainly had enough on my hands already, so it was invaluable to be able to put trust in Nicola to get my venue looking gorgeous. Excellent service.
---
Nicola of Eva's covers provided a wonderful service at a reasonable price and communication was prompt. The addition of the chair covers made the venue look really special on the day. Shena Raeburn – Inverness.
---
First Class. Very approachable and a first class friendly service with a wide choice of fabric/colours. Our wedding venue looked fantastic as the chair covers finished off the look of the room. I will definitely recommend Eva's Chair covers to family and friends. Louise Skoull.
---
We were very happy with the service provided by Eva's Covers. Nicola went out of her way to be helpful in providing chair covers and bows to enhance our wedding venue and adding little finishing touches such as extra bows on the top table. The church pew ends which she decorated with bows and gerberas were widely commented upon.
---
Nicola was prepared to 'go the extra mile' to meet deadlines etc. and her service was professional and good value for money. Thank you Nicola. It has been a pleasure to work with you. Excellent professional service.
---
Eva's cover's provided a good quality chair cover with sashes at a reasonable price for my wedding. A friendly helpful service was provided by Nicola. It really put a special finishing touch to my perfect day. I would recommend Eva's Cover's to family and friends. Thank you Nicola for all your help, Kelly McBeath.
---
Mob: 07817 154826  |  Tel: 01463 870830  |  Email:  evascovers@btconnect.com